the most future humanoid earthlings have ever known has left us at 69.
as the left behind, we shall stay blessed in his frequency,
honored by auditory stardust airwave absorption—
░░░░░░░░▓▓▓▓ RIP DB ▓▓▓▓░░░░░░░░
U LIVE 4EVR IN OUR HEARTS
(& ON MP3)
#prayerhandsemoji
& many thanks 2 Lorna Mills for sharing this beautiful collection of Bowie GIFs she created/curated in 2011~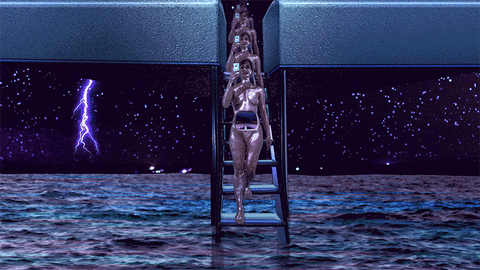 Nude Descending a Staircase by Carla Gannis
+Carla Gannis: A SUBJECT SELF-DEFINED
////////////////////////////////////////////////////////
OPENING RECEPTION
Saturday, January 23 from 6 – 10 PM
////////////////////////////////////////////////////////
TRANSFER gallery
1030 Metropolitan Ave, Brooklyn
thru March 12, 2016
TRANSFER is pleased to present 'A Subject Self-Defined' the gallery's second solo exhibition with NYC-based artist Carla Gannis. "A Subject Self-Defined" is a new body of work from Carla Gannis that addresses issues of branded identity; age and body estimation; catastrophe culture; and online agency via static, dynamic and interactive "selfie" imagery.
The woman's face has served as the muse of the male gaze throughout art history. Artists such as Artemisia Gentileschi, Frida Kahlo, and Cindy Sherman have subverted this idea of woman as figure, as a mere face, and as muse through self-portraiture. They called into question what happens when a woman turns the paintbrush and, in our contemporary times, the camera, to her own face.
In 'A Subject Self-Defined', Carla Gannis provides the viewer with multiple vantage points that traverses various forms of self-portraiture and mixed-media methodologies. Her series converges a wide array of technologies – drawing, painting, animation, social media, and augmented reality – together to serve as the artist herself re-represents herself.
Statement from the Artist:
"My selfie drawing series began one year ago as a search, turning my gaze upon myself (and my electronic devices) to see what I might find there. I felt vulnerable at first, speaking more directly through my own voice, and using myself as a character in the digital narratives that seem to be my most natural form of expression.
The culmination of this body of work as a solo exhibition of large-format looped moving images takes its title from Joseph Kosuth's 1966 neon sculpture that spells out and is eponymously titled 'A Subject Self-Defined.' He belonged to a group of artists involved in stripping down the art object, reducing it to ideas and information that were detached from personal meaning. Forty-nine years later, when we find art in the age of networked identity and digital dematerialization, I am perplexed by subjecthood and self-definition in relationship to the "personal" when performed publicly."
WITH NO END IN SIGHT by MIGUEL DIZMOLOGY OVALLE
(premiered at STIMULATION OVERLOAD)
+read this article if you missed the opening of Superchief Gallery Soho
& stop by for gallery hours this week Tuesday/Thursday 1-9,
when a portion (including Miguel Ovalle, featured above) of the massive amount of artists exhibited in their grand opening show STIMULATION OVERLOAD will be present to vybe with u ☆*:.。.o⌒(o*゚▽^o)ノo.。.:*☆
@ Superchief Gallery Soho
@The Hub, 138 Sullivan street, NEW YORK
++ALSO, the show featured a screen devoted entirely to ~*NewHive*~,
curated by me, which will be available forever for all to see in this collection
Opening Folders by Emilio Gomariz
Deep Gradient by Emilio Gomariz
+Emilio Gomariz: Opening Folders
check out these and more pieces from the Net Artist's psychedelic psychotically delightful ongoing screen video capture project Opening Folders!
In the title piece of the series, the folders are placed on desktop following a concentric and symmetric layout but they are named by numbers in a clock wise direction, with 8 folders on every corner and the rest in the center, this composition makes the user create different animated transitions as the folders are selected differently before to open them. Though each corner uses a different gradient background design on the folders placed in, the same for the ones in the center, this makes a visual coherence while they are animated. A good example of breaking that visual flow is when in the minute 2:05 the folders are arranged by name on the right side of the desktop and selected by order through cmd + A, they still open by order but the gradient designs are alternated provoking a greater complex visual.
For Deep Gradient, the folders are opened from top to bottom and vice versa, just using the keyboard shortcuts, playing with the idea of linking the consecutive opening action with the colour hue of the gradient. Thus every folder has a different background, same design but changing its hue (360º of a colour hue cycle has been divided by 31 folders, so each folder has increased its hue 11,61º to complete a entire cycle between the first and the last folder) making a visual effect such as colourful tunnel or video feedback behaviour.
The Opening Folders series is part of Emilio's larger Macintosh Lab project. He is currently based IRL in Alicante, Spain.
+Ten Years at the Zoo
Las Naves
Valencia, Spain
closes January 16, 2016
The first video EVER on YouTube was uploaded at 8:27 p.m. on Saturday, April 23, 2005. It is called "Me at the Zoo," and it features the musings of Jawed Karim, one of the site's founders, as elephants nose around in hay behind him.
Ten Years at the Zoo is a group exhibition of video and installation that examines the impact of Youtube on contemporary art generated and distributed specifically for the network since its inception until today to mark the tenth anniversary. "Me at the Zoo" has survived for ten years during which Karim et al have helped to revolutionize the field of communication, information and expression of human beings through audiovisual.
The sample consists of an environment where nature abounds in artificial quartz stone- questioning the limits of biology, while referring to the idea of digital dump. the projection of six videos by selected artists who identify their location for creation in the Internet itself, i.e. whose work lies by and for the network without a physical place beyond the border of cyberspace. Acclaimed New Media artists Andres Galeano, Claudia Maté, Emilio Gomariz, Lorna Mills, Vince McKelvie and Katie Torn have each created videos for this show.
The free distribution of such works through internet line happens in some collective intelligence, so the exhibition answers a sociological research query from an artistic and philosophical point of view.
Slow Hot Computer User Test by Sam Lavigne
+WordHack XIX
(featuring an *OPEN PROJECTOR* (like an open mic for digital work)!!!)
Thursday, January 21
7:00 PM – 9:30 PM
Babycastles
137 W 14th St, New York
SUGGESTED DONATION $5-10
WordHack is a monthly evening of performances and talks exploring the intersection of language and technology. Code poetry, digital literature, e-lit, devArt, coders interested in the creative side, writers interested in new forms writing can take, all are welcome here.
there will be an *OPEN PROJECTOR* (like an open mic for digital work) where anyone can come up and show their work (for 5 minutes). Signup starts at 6:45, performers start at 7:15.
This month will feature talks and performances by:
SAM LAVIGNE
STEPHANIE ROTHENBERG
CHRISTIAN HAWKEY
CAT TYC
Host: TODD ANDERSON
Lead Organizer: CLAIRE DONATO

see full project on @brainztain's Instagram feed
+Become part of the first ever Phone Wave EP
by leaving a short message at 1-818-649-WAVE
(WAVE =9283)
by BrainZtain
FAQ's:
Q: What is Phone Wave anyway?
A: It is music with telephone recordings as central elements. Phone Wave captures a collective snapshot of overlapping cyber-space cultures. It destroys the collaborative boundaries sometimes upheld by varying art forms and skill levels. And yes, I made it all up.
Q: What should my message say?!
A: There are no rules, but you can start off with your name/handle followed by a short greeting, poem, rant, singing? Something in your own language? Make a weird sound? Just be creative and have fun. Short and interesting messages will work best but don't limit yourself, if you have an idea that takes more than 20 seconds, be my guest. I will do my best to fit everyone on the 4 tracks, especially if I contacted you directly. Who knows, maybe It will turn into a full album.
Q: I'm International and don't want to spend money calling long-distance, but still really want to be part of it…
A: It's all about the voicemail aesthetic, but e-mail me a recording at retrodeaf@gmail.com cuz I will break my own rules in the name of art
Q: Uh, is the Phone Wave EP, like, trying to be a vaporwave mix tape? like, cuz I only, like, like real Vaporwave and Mallsoft and Donald Trump, like…
A: No, I just like vaporwave aesthetics so this EP and its artwork might be heavily influenced. Phone Wave is more about the underlying concept (explained in the definition above) and phone voicemail aesthetics.
Q: Can I make Phone Wave?
A: You can, and you SHOULD
Q: Why are you doing this?
A: Cause I can <3 <3 <3
#BrainZtain
#vaporwave #seapunk #webpunk #netpunk #cyber #cyberghetto #leanified #edits #editme #younglean #art #sadboys #fijiwater #aesthetic #glitchart #collageart #collage #vhsglitch #bitwave #8bit #pixelart #vhswave #netart #glitch #phonewave